At Higher Voice Studio, we know we cannot separate the singer from the voice.  Our instrument is us, so who we are, and how we are, deeply affect every aspect of making music. Whether we use our voice to sing, speak, lead, or all of the above, our connection with ourselves determines our ability and confidence to express our truth.
If you are a teenager or a young adult, The Better Being Series at Higher Voice Studio is our gift to you.  These free workshops allow our students, their friends, and the community opportunities to cultivate this connection, together, with guest speakers on a variety of topics like positive psychology, time management, yoga, and nutrition.  Parents, grandparents, caregivers are also always welcome.  Come.  Find your inspiration, your balance, your confidence, your strength, your best self.  Find your Higher Voice.
Current Workshops:
Positive Psychology for Teens and Young Adults
Languishing to Flourishing in 2022
Saturday, January 29, 2022 from 2-3pm
Does the word "languishing" resonate with you? Languishing has been described as a state of being where one is not quite depressed, yet also not moving into an area of flourishing. When languishing, we lack coping mechanisms, feel overwhelmed, and struggle with burnout. Negative emotions and low energy abound, and life is not lived in "full color," but more in a "greyscale" fashion. All of us have the potential to tap into inner resilience; however, sometimes we find ourselves in challenging situations where our resilience well is "paved over," or is at least, not adequately replenished. In other words, sometimes we simply run out of energy, motivation, and resources to help ourselves. 
Fortunately, research teaches us that resilience is less about the actual difficult circumstances in which we find ourselves, and more about how we respond to these challenges. Resilience can be built through our choices. We can strengthen our ability to remain steady, calm, and not only bounce back but thrive. We can emerge better and stronger even in the face of adversity. 
Join Sandy Campbell as we learn more about the science of resilience and self-care in this supportive and interactive one-hour workshop. We will individually review 2021 by taking an honest look at what choices and behaviors fostered growth, and which choices and behaviors held us back. We will then build a plan for how to move out of languishing and move forward with true intention, purpose, and self-care as a priority in 2022.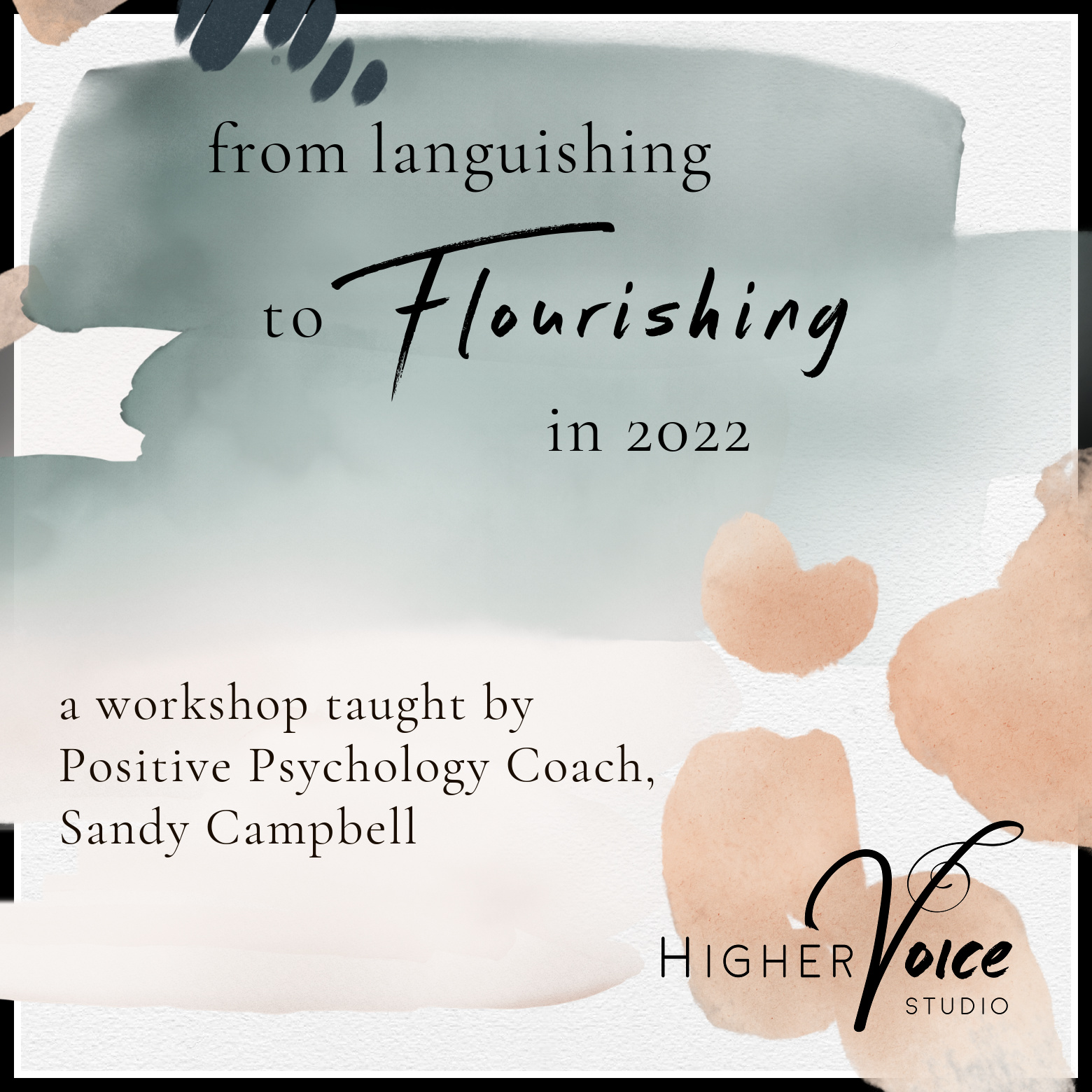 From Languishing to Flourishing in 2022
When: Saturday, January 29, 2022
Time: 2-3 pm
Where: Hibbitt Hall in Higher Voice Studio 
Address: 144 East Main Street, Carnegie, PA, 15106
Who: Teenage to young adult students and their friends.  Parents, grandparents, and caregivers are also always welcome.
What: Discover your unique skills and values, so you can move forward in peace and happiness, with purpose and strength.
Cost: $0
Click here to register.  Spots are limited.
Sandy Campbell: Positive Psychology Coach
After working for ten years for a major pharmaceutical company, Sandy Campbell decided to stop working in the corporate world and start improving it instead. As a Positive Psychology Coach, Sandy's passion is to help clients achieve their full potential by helping them make small but highly impactful shifts in the way they eat, think, and move. She holds an M.S. in Counseling from Villanova University as well as degrees and certifications in Integrative Nutrition, Yoga, and Applied Positive Psychology. Sandy is currently a Teaching Assistant with the Whole Being Institute's Positive Psychology Certificate. Learn more about her Corporate Programs, Clean Eating Boot Camp, Rise & Thrive program, and healthy recipes at sandycampbell.net.