Vocal Training & Musicianship
Higher Voice Studio is where singers and performing artists of all ages, levels and styles, come to develop their voice and to cultivate their unique artistic expression.
Founded by Hilerie Klein Rensi in 2011, Higher Voice Studio has quickly become the most sought after voice studio in the regional Pittsburgh Area.  Bringing her expertise as a private voice instructor, coach and professional opera, musical theater and rock singer, Hilerie has taught over 1000 students who have ranged from professional country singers to high school students looking towards a career in classical music. Responding to the growing need of excellence in vocal education, Hilerie began training active and aspiring voice teachers, creating a place where students could learn from and be supported by experts, many at a time. Now offering Music Together® classes for children ages 0-5, Higher Voice Studio continues its mission to provide the most complete education for the complete artist of any and every age.
Most recently seen on Dance Moms, Hilerie's current and former students have been featured in Opera News Magazine, performed on NPR's radio program "From the Top," showcased on The Tonight Show with Jay Leno, shone for Grammy Award Week Salute to Placid Domingo with Los Angeles Opera, sang On and Off-Broadway. Her students have been seen on Oprah, at The Kennedy Center, at The Dorothy Chandler Pavillion, on national tours in Europe, on cruise ships, with symphonies and in regional and community theaters nationwide.  They have performed with Mötley Crüe, Gavin DeGraw, Wynton Marsalis, Collective Soul, Thomas Hampson, Jason Mraz, Jo Dee Messina, Crosby, Stills & Nash, Breaking Benjamin, Brett Eldredge, Rob Zombie, King's X, Skid Row, Fishbone, Hootie and the Blowfish, Seether, Journey, The Swon Brothers and in clubs, schools, coffee shops, bars, fairs and campuses across the country.
Her students have been accepted to classical, musical theater and contemporary music schools including: Curtis Institute of Music, Eastman School of Music, State University of New York at Fredonia, Manhattan School of Music,  University of North Carolina at Greensboro, Juilliard, State University of New York at Cortland, Penn State University, Ohio Northern University, The Crane School of Music, Ithaca College, University of Southern California, Oklahoma City University, UCLA, Temple University, University of the Arts, Belmont University, Houghton College, Cleveland Institute of Music, Seton Hill University, Berklee College of Music, Mannes School of Music, and summer programs including Interlochen Center for the Arts, Aspen Opera Theater, Aspen Music Festival, Southeastern Summer Theatre Institute, The Glimmerglass Festival, Binghamton University Summer Youth Musical Theater Workshop, ArtsBridge Summer Musical Theater Program, and Boston University Tanglewood Institute, among others.
Higher Voice Studio students have won Presidential Scholar of the Arts Awards from the US Department of Education, National First Place prize in the Classical Singer Magazine Competition, First Place in Talent in the National American Miss New York Pageant, First Prize at the Gerda Lissner Liederkranz Competition, earned First Place Grand Prize Finalist at the Los Angeles Music Center Spotlight Awards, and participated inThe National Association of Teachers of Singing Competition.
Higher Voice Studio students are rock singers, worship leaders, cantors, backup singers, country recording artists, cruise ship performers, opera singers, children's musical entertainers, ministers, karaoke singers, chorus conductors, musical theatre performers, R&B artists, church choir singers, singer-songwriters, voice teachers and people who were always told they couldn't do what they wanted to do.  They are beginning singers, advanced singers, young singers, old singers. And what motivates them all is a desire to tell a story. And how do you tell a story? With your voice.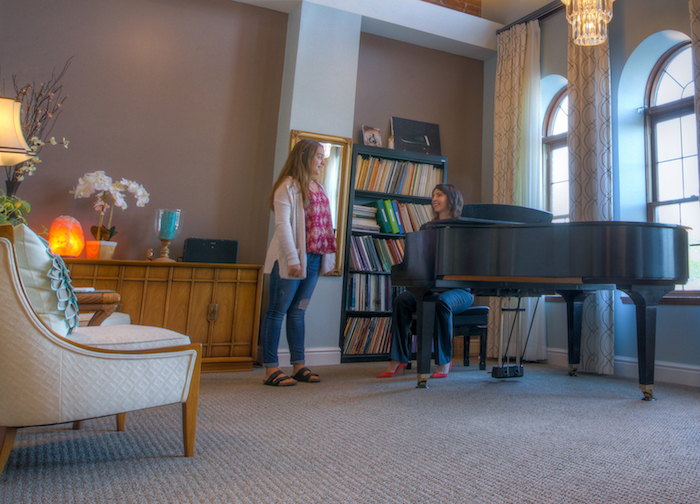 Every new student at Higher Voice Studio begins with an initial lesson consultation with one of our amazing teachers. The first lesson is where we learn about your strengths, experience level, background, musical interests, vocal health history and personal goals. It's from here that an individual plan is developed and you are placed with an instructor that best fits your unique needs. You talk a little, sing a little, and learn a little.  It's very relaxed and very fun.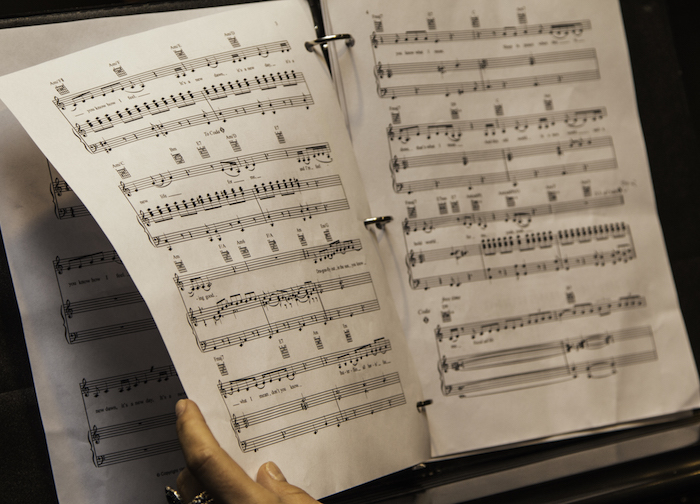 Learning to play the piano will improve just about every aspect of your skills as a musician,​ ​and it will make you a better singer. Sign up for piano lessons at Higher Voice Studio, and we will teach you how. You can learn to play from the page, by ear, or a combination of those, in any style you'd like: jazz, classical, pop and improvisation. Learn how to accompany yourself and your friends, music theory, you name it….  It's never too late to start!
Ciara O'Neill Mendoza
"…let me preface this by saying I may be a little sentimental in my discussion of this topic.  I can't help it.  Those four plus years of lessons were the years I was figuring out who I wanted to be and those 30 minutes to an hour were critical, acting as a foundation for all the singing and artistry that has happened since.  I can't be the only one that you've taught that was inspired to take singing beyond the initial goal when they walk through the door for their first lesson.  I learned that singing grows with you.  It can go from fun and games to a tool for soul searching and all that's in between.  Without your lessons I never would have thought that singing was a valid and worthwhile art form and career path, though certainly difficult.  I learned about trying to have patience with myself and accepting that some things are a constant battle (see: tongue tension).  It's never ending!  What didn't I learn from you?  I could write an essay on all the things I got out of lessons with you.  Technically?  Like I said, a foundation for all the work I continued – breath, posture, phonation…  All pondering on the matter aside, this seems like a good time to thank you.  You were a great voice teacher, but beyond that you became a great mentor.  I owe you more than I could ever say."
Cassie Relyea
"Hilerie is a fantastic teacher.  I remember coming in when I was around twelve years old and feeling so nervous that I was gonna have to sing opera or that the teacher that my mom had set me up with was gonna be mean or harsh to me.  But that wasn't the case.  Hilerie was friendly and down to earth.  She saw my potential and was as excited about my singing as I was.  When I was having a hard time motivating myself, she was there to push me forward to be the best that I could be.  As time went on, she became more than a teacher.  She became a mentor and a friend.  I miss and love her dearly and I don't regret a single thing that I did while I was under her teaching.  I am still inspired by her to this day and I'm so excited for what she's doing in Pittsburgh.  She definitely changed my life for the better, in more ways than one." 
Mary Beth Willis
"Hilerie has been an incredible, inspirational, teacher, friend and mentor for both of my daughters, encouraging them to be their best in all of life's struggles and adventures through the pursuit of music and excellence.
Hilerie manages her lesson times and plans effortlessly- with time for friendly and purposeful chat, constructive critiques, instructions to prepare for the next lesson, to cover lesson goals and, of course SING! Lessons are truly just plain fun, and we always completed the class with a sense of having accomplished something significant.
Hilerie takes the time to get to know and listen to her students and families, developing goals about what is wanted and needed from vocal lessons-  preparation for festivals, auditions, performances, recitals, choral rehearsals, family duets, or just self-satisfaction- she is a unique and extremely gifted teacher!  Great for beginning or advanced vocalists of any age!
Personal, Private, Challenging, Inspirational- time with Ms. Klein Rensi is time well spent."
Haley Yanko
"When I first came to the studio, I was skeptical about how much vocal improvement I would see. Trust is rare, and to trust someone with your voice, your soul, is no easy task. I trusted Holly from our very first lesson.  Together, we've worked on my voice for one year and I am absolutely stunned at the difference between then and now. The pace of the evolution is insane!  It has been such a dramatic transformation, not only in my voice, but also in my confidence.  All of it, I owe to Holly.  I used to sing at the volume of a whisper.  Now I have a powerhouse voice.  Techniques taught at the studio are top notch.  If you are passionate and dedicated in following her instructions, Holly will take your voice to new levels.  You CAN have the voice of your dreams, and you WILL surprise yourself, guaranteed.  Lessons are never boring, after all, singing is an adventure!  Holly and I have a blast, and I truly enjoy and anticipate my lesson each week!  Trust me, there is no better place to begin your vocal journey than Higher Voice Studio.  Joining has been one of the best decisions of my life.  Hilerie Klein Rensi and Holly Van Hoey, changing lives one voice at a time!  Give them a call. In one year's time you'll be congratulating yourself on the best decision you ever made."
Gary Ingraham
"I LOVE Hilerie, both as a friend and a coach.  I was reluctant to start taking lessons in my mid-50s because I was convinced that nothing could be done to mend or improve my aging voice, especially since I had never before considered the proper method for caring for and using my vocal chords.  Boy, was I wrong!  Since I started working with Hilerie, my band-mates have commented on my progress.  My toughest critic – my wife – has noticed, too.  I'm more comfortable singing on stage and my stamina has improved tremendously.  Hilerie is patient, encouraging, and most of all, she knows her business.  Her bright personality, sharp wit and delightful sense of humor all help to make lessons an enjoyable experience.  I would very highly recommend her to anyone – at any age – who is interested in improving his or her confidence and singing voice."
Laurie Kudis, Charm and Chain
I have been working with Holly for a little over a year now.  My experience has been extremely positive and encouraging from the beginning, and Holly has been compassionate and supportive as I develop and expand my range, address specific vocal challenges with simple and effective methods, and when working on challenging material.  More than anything though, Holly has encouraged me to express MY unique voice, as well as help me to continue to build confidence in my instrument."
Lauren and Hannah Hobbs, The Hobbs Sisters
"As both a friend and a teacher, Hilerie is inspirational, encouraging, knowledgable and positive. We have learned so much in the 18 months we have taken lessons from her. As singers who are performing every weekend, our vocal health is critical to our career and Hilerie has made our voices stronger and healthier. We are constantly thankful for her guidance and support each week as she strives to make us better singers and performers. She is an amazing mentor and we feel so blessed to be her students!"
Dedra Rantovich
"In the short time we have been with you, Kara has developed so much as a singer AND person.  You've helped her tremendously!  Can't wait to see what the future holds!"
Sara Botkin
"I love studying with Hilerie. I have experienced a marked improvement in my technique and singing has become easier than it ever has been.  Hilerie also has a wonderful way of making music come alive – she is as excellent a coach as she is a technician.  She also has a positive and uplifting attitude that is infectious."
Johnny Luoma
"Hilerie is not just interested in your growth as an artist; she is also interested in your growth as a person. The two go hand in hand. She breaks down singing into something relatable and makes you fully aware of every aspect of your body, and how it connects to singing. Over the past year, being a part of Higher Voice Studio has changed my voice for the better. I would not be where I am today without her incredible teaching technique and guidance." 
Johnny Only
"As an adult male with a weekly show, as a vocalist and performer of children's music, I wanted a vocal coach who understood the theatrical elements of performance and would take my children's music seriously.  Hilerie could do both and with such insight, that along with improving my vocal technique, she was also improving my shows with suggestions that ranged from nutrition, to audience perception, to developing and keeping a winning attitude.
If Hilerie was the vocal coach for a president of The United States, not only would the president use much better breath control during his speeches, but he would legislate that all supermarkets carry nothing but organic food harvested using sustainable farming techniques, his foreign policy would be so good that it would usher in a whole new era of world peace, and we'd all have such a winning attitude that the economy would be going straight up with no sign of stopping!"
Emily Palma
"I started going to Hilerie in June of 2012.  Ever since then, I have been making significant improvements at each lesson. Not only has my voice become stronger, but when I sing, I am singing in a healthy way.  At first, I was nervous to go to lessons because I had never done them before.  I just sang without thinking of how I was using my voice.  Hilerie helped me to realize that if I am not using the correct and healthy technique while singing, then I can potentially damage my singing career.  I cannot express how helpful going to voice lessons with Hilerie has been for me.  I have heard such a strong improvement in my voice and I am so glad that I have the opportunity to work with such an amazing woman!"
Don Kain
"I am a guy who is well over 50 and had never performed or taken voice lessons, but had always loved to sing.  Music had always been a source of inspiration and personal growth for me.  My goals were to sing more often, to sing better, and to explore my potential.  Working with Hilerie was a WONDERFUL experience.  She is very positive and encouraging.  She creates a fun and relaxed atmosphere, where you feel like it is ok to take chances and challenge yourself.  I learned so much from Hilerie, which helped me to improve my range, tone and confidence in singing solo.  Studying with Hilerie is good for your heart and your soul!"
Tina Otis
"My daughter started with Hilerie when she was just 5 years old. Over the four years that she took lessons she learned a wide variety of music along with many vocal warm ups and exercises to enhance her singing. She really looked forward to working with Hilerie every week, and has been singing on a regular basis at our church ever since. In her own words, 'Miss Hilerie Rocks.'"
Lori Relyea
"Hilerie is such an awesome voice instructor, but more than that, she is a great person and friend. She becomes her students' friend and mentor, helping and encouraging them along the way. Of all the instructors I have had in the past, Hilerie is my favorite. She was able to teach me things that none of my other instructors ever did. She really cares about each of her students. When my daughter was experiencing some major health problems, Hilerie was a great friend and encouragement to me. She took time to find information about doctors and diet that she felt would help, and she kept in touch even when we stopped lessons for awhile. She was genuinely interested in our lives. Even though she has moved her studio to Pittsburgh now, she still keeps in touch with us and offers to give us lessons whenever she comes in town. I love Hilerie and truly miss her!"