Here at Higher Voice Studio, we are very excited and honored to offer limited time workshops, hosted by our faculty and esteemed special guests.  This gives our students an opportunity to sharpen specific skills, develop in focused musical & vocal areas, and build their resumés with career advice and personal one-on-one interactions with people who are successful and accomplished in the world of music.  Please see below to learn more, and to sign up for our upcoming, exclusive Higher Voice Studio Workshops.
Breathing: The Ins & Outs
Breathing.  You do it all day every day… even when you're sick, asleep or half dead,  But, do you find that when you are singing, all hell breaks loose?  Can you breathe when everything is on the line? How does it effect your high notes? Does it help you belt?  Does it help you switch from chest to mix to head? Or do you find that you run out of air when you sing?  Are you taking in too much?  Or too little?  Or, maybe you're just wondering why everyone else seems to be able to get through these long phrases and you fall apart halfway through.  It doesn't make sense!  You know it's possible because you've heard people do it, but you don't know how it's possible for you because everything you try doesn't work. 
Have faith! As a professional opera singer, musical theater performer and the lead singer in a band, I've been really lucky to have some phenomenal mentors in my journey that have given me pieces to this puzzle, but it really was my work as a teacher with thousands of singers over the years that has taught me what I believe to be true about how to breathe and control the breath while singing in a way that is really practical, simple and completely applicable to everything that singers do.
On Saturday, May 11, 2019 from 2-5pm, I'll be answering your questions about breath, breath support, and using volunteers from the audience to help you negotiate how it works for your body and your unique instrument, all for less than the cost of a single voice lesson with me. Watch the video introduction and click the link below to register.
I really, really hope to see you there! Happy singing and I'll see you soon!  ~Love, Hilerie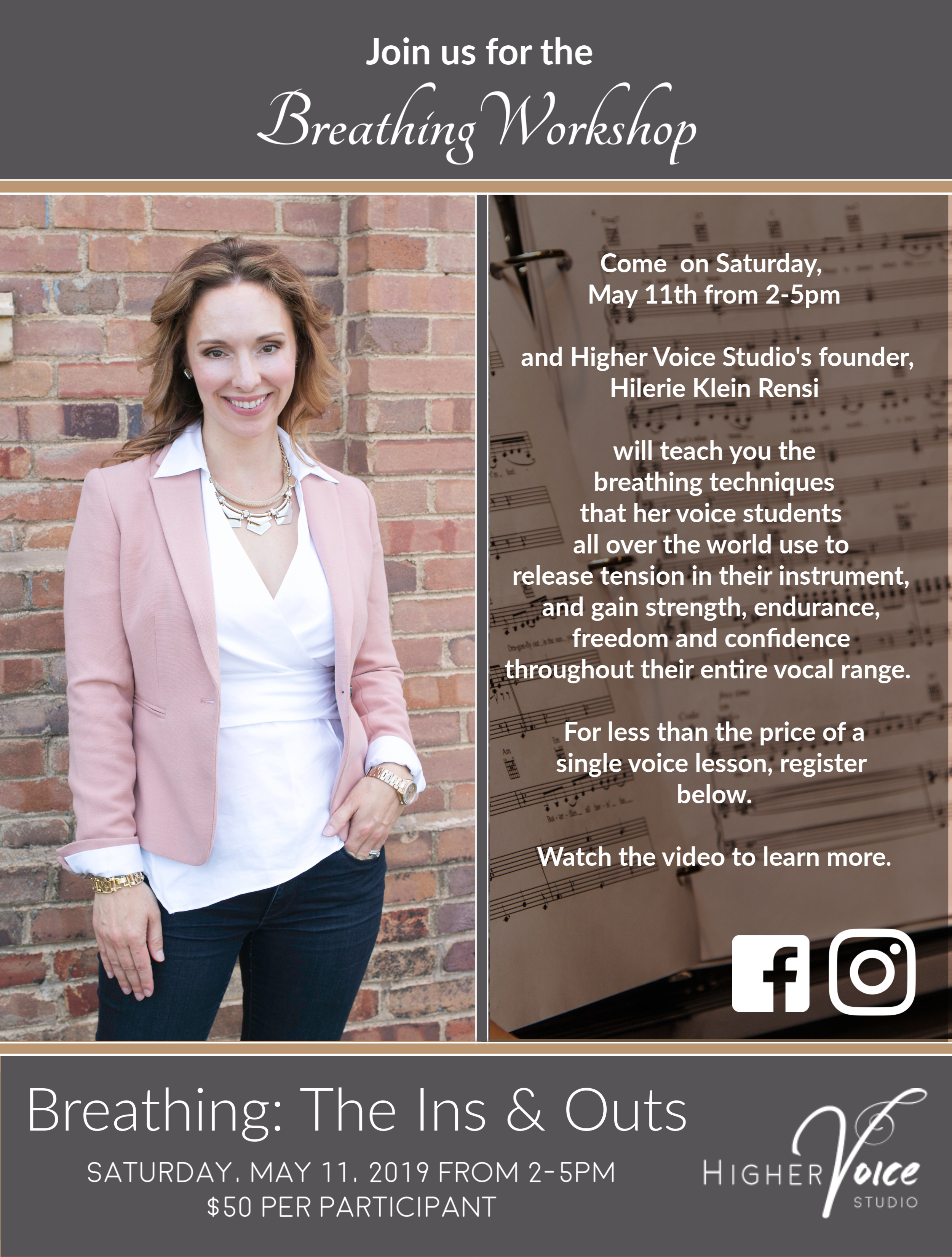 Video Introduction: Breathing: The Ins and Outs
At Higher Voice Studio on Saturday, May 11, 2019 from 2-5pm.
The cost is $50 per participant, paid at the time of booking.
This workshop is exclusive to Higher Voice Studio and is open to voice students, teachers and singers everywhere.
Click the link to register.  Spots are limited.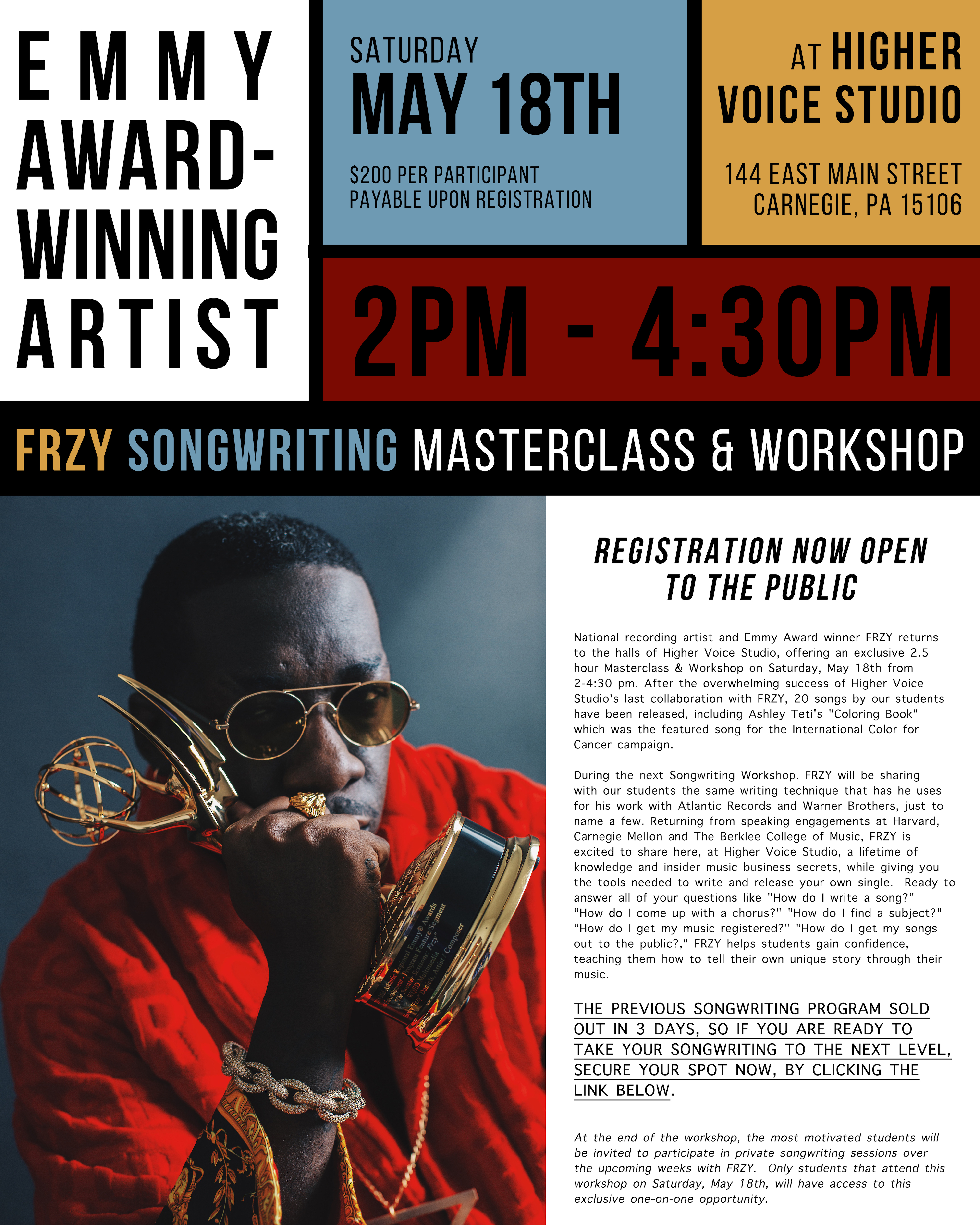 Website: www.thefrzy.com
Book Here
Event: FRZY Songwriting Masterclass & Workshop
Location: Higher Voice Studio: 144 East Main Street, Carnegie, PA 15106
Time: Saturday, May 18, 2:00pm-4:30pm
Cost: $200 per participant, payable upon registration
National recording artist and Emmy Award winner FRZY returns to the halls of Higher Voice Studio, offering an exclusive 2 1/2 Masterclass & Workshop on Saturday, May 18th from 2-4:30 pm.  After the overwhelming success of Higher Voice Studio's last collaboration with FRZY, 20 songs by our students have been released, including Ashley Teti's "Coloring Book" which was the featured song for the International Color for Cancer campaign.
Hailing from The Steel City, FRZY embodies the hard working, true grit reputation of the city.  Now world renown from his appearances on MTV, Rolling Stone, Yahoo! Music, and many more, his performances have sold out stadiums and arenas, with crowds as deep as 30,000.  FRZY was the first rapper to ever be named one of Pittsburgh Magazine's '40 Under 40' and Whirl Magazine's national '50 Finest' class.  With sponsorships from Adidas, Subway, Mercedes Benz and more, FRZYalways maintains a strong relationship with the community, while also growing his national presence as an artist and MC.
FRZY is a true MC. He crafts everything to contain an impactful, lyrical punch while having a confident delivery filled with wit and charisma.  The national recording artist is also a BMI writer, and his music seamlessly spans the genres of hop hop, pop, R&B, alternative, folk, country, rock, classical crossover, and even commercial jingles. FRZYreleased his double-disc, debut album in September of 2016, titled "God King Slave" highlighting his skills as an artist like they were never heard before.  He has performed with Chris Jamison, Wale, Lil Wayne, Rick Ross, Wiz Khalifa, Twista, Bow Wow, Too Short, Machine Gun Kelly, Jadakiss, Nelly and 50 Cent.  FRZY is an official MTV Artist, Vevo Artist and Verified Genius Artist and his music is available on Pandora, Apple Music, Tidal and Spotify.  During the next Songwriting Workshop. FRZY will be sharing with our students the same writing technique that has he uses for his work with Atlantic Records and Warner Brothers, just to name a few.
Returning from speaking engagements at Harvard, Carnegie Melon and The Berklee College of Music, FRZY is excited to share here, at Higher Voice Studio, a lifetime of knowledge and insider music business secrets, while giving you the tools needed to write and release your own single.  Ready to answer all of your questions like "How do I write a song?"  "How do I come up with a chorus?" "How do I find a subject?" "How do I get my music registered?" "How do I get my songs out to the public?," FRZY helps students gain confidence, teaching them how to tell their own unique story through their music.
This workshop has only limited openings and is open to the public.  The previous songwriting program sold out in 3 days, so if you are ready to take your songwriting to the next level, then secure your spot now, by clicking the link below.  ALL STUDENTS MUST REGISTER.
At the end of the workshop, the most motivated students will be invited to participate in private songwriting sessions over the upcoming weeks with FRZY.  Only students that attend this workshop on Saturday, May 18th, will have access to this exclusive one-on-one opportunity.