Come see us at our beautiful building in downtown Carnegie!
Higher Voice Studio's grand opening was just the beginning of a triumphant first year at our new location in beautiful downtown Carnegie!!  Welcoming over 140 new voice students through our doors in one year, our halls have been blessed with joy, music and new faces eager to be a part of Higher Voice Studio.  Click here for a moving article by Harry Funk of Pittsburgh's Almanac, complete with a music video memorializing our grand opening at our new building.  Thank you to Jack Kobistek, former Mayor of Carnegie, for helping us cut the ribbon, to Carnegie for embracing us with open arms and to all of you for making Higher Voice Studio a success!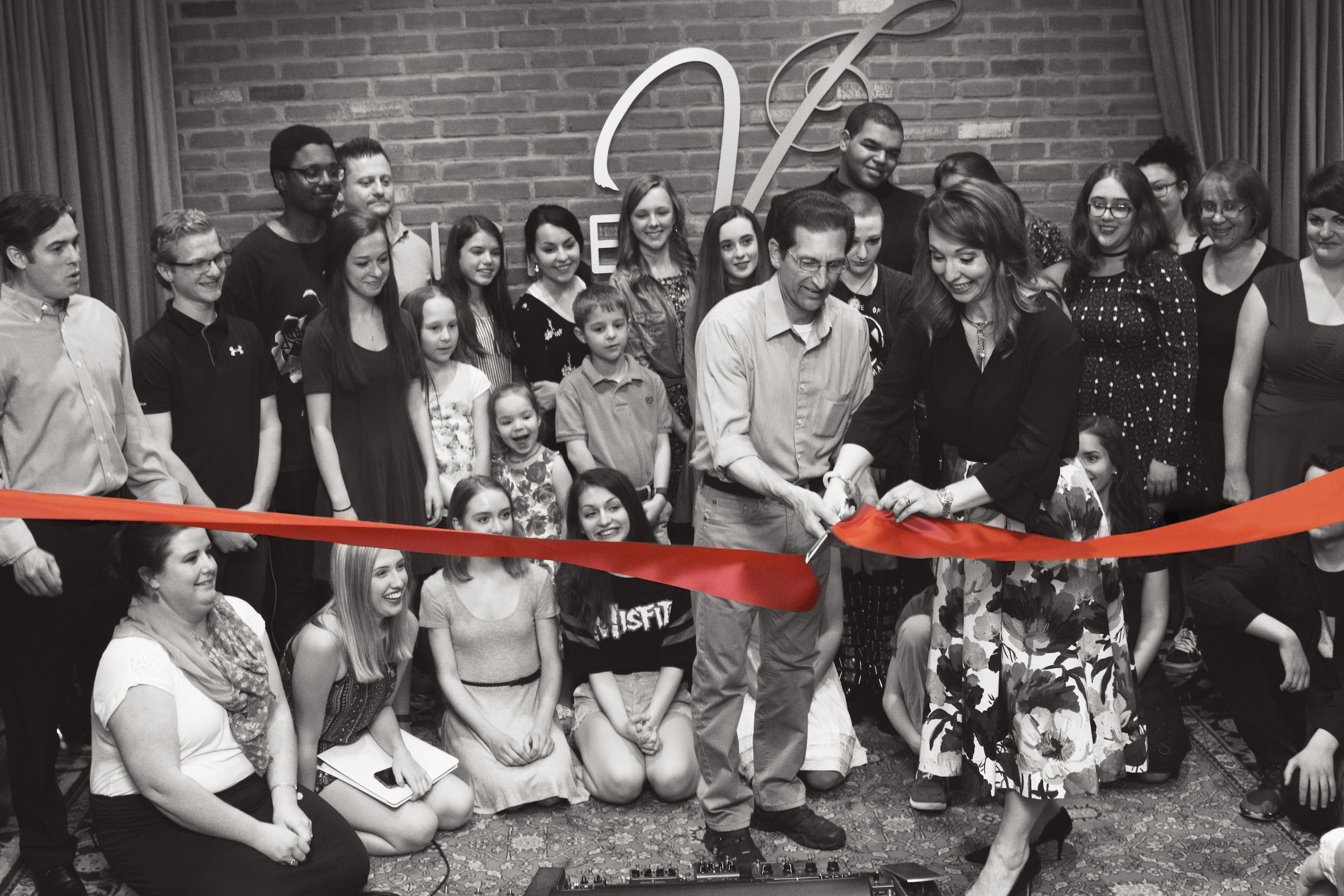 Studio News - July 2018
Now you can sing at our open mic night!  Join us on Friday, July 13th at 6:00pm in Hibbitt Hall for an evening of relaxation, sweets, and (of course) music!  This evening will be a donation-based event, featuring snacks and beverage for purchase.  Bring sheet music to your favorite song for Joe to play, a karaoke recording, guitar or feel free to accompany yourself on the piano.  Come out and support your fellow musicians, and sing a tune or two! We will be live streaming- so dress to impress! Bring your family and friends to cheer you on!
On Saturday, July 14th at 2:00pm in Hibbitt Hall, Hilerie will be hosting a FREE masterclass!  If you haven't attended a masterclass before, they are open to all members of Higher Voice Studio and are the BEST way to get over your nerves, meet other singers in the studio and learn a ton about singing!  Joe will be here to accompany you, and those that would like to can come up, sing their music, and Hilerie will work with them in front of the other students.  If you aren't ready to sing something, just come and watch!  A lot of the school students are out of school for the summer, so this is an exceptionally great opportunity for older and younger students to try it out!
Pittsburgh Musical Theatre's production of Mary Poppins at the New Hazlett Theater was a huge success! Our students, Liam Allen, Charlotte Kinslow and Amara Comans were great representatives of all the hard work of our students at the Studio.
We were recently noted in an article featuring Firebox Art Studio, right down the road!  Check out this excerpt: "…Trout notes that a little arts community has been evolving on Carnegie's Main Street. Nearby is the 3rd Street Gallery, Abandoned Pittsburgh (a photo gallery), and the Pittsburgh Pottery. There's even a music school, Higher Voice Studio, run by Hilerie Klein Rensi which offers lessons for singers at all levels."
Studio News - June 2018
Higher Voice Studio is elated to welcome Joe Woodring as a piano teacher and accompanist. He truly enjoys working with students of all ages, abilities, and backgrounds to set and achieve their goals! Joe is a professional pianist, accompanist, and music teacher relocating to Pittsburgh from Toledo, Ohio. He has been teaching piano, directing choirs, and teaching various levels of music as well as directing musical theater productions since graduating from Bowling Green State University in 2006 with a B.A. in Music Education with a specialization in piano and choral music.
Nicole Baker will be performing in Pittsburgh Musical Theater's Xtreme Teen Broadway, an elite summer group that performs songs from newer musicals as well as pop songs. The group performs in and around the greater Pittsburgh area throughout the summer.  And if that wasn't enough, she will also be singing 2nd soprano with the Junior Mendelssohn Choir.
A huge congratulations to Sydney Cawley who was one of only six chosen for the first alto section in the Mt. Lebanon Chamber Choir.  Students not only have to show their vocal and musicianship skills for the audition, but also must submit written question responses to the director to be chosen for one of Mt. Lebanon High School's most select choirs. Entering her senior year, Sydney knew that this would be her last chance to be a part of the Chamber Choir, so she prepared her audition music with her voice teacher, Holly, and prepared for the sight-singing portion of the audition with Caitlin.
Tessa Savannah sang at CMA Fest this month in Nashville!  Tessa began studying voice with Hilerie while in high school in New York and went on to attend Berklee College of Music in Boston, studying songwriting and voice.  "I really do owe it all to Hilerie," adds Tessa.  Follow Tessa's artist page, Tessa Victoria and Instagram @tessavictoriamusic for more!
Abbey Evanko (Ariel), Reagan Redford and Clara McGough (mer-sisters) and Piper Redford (Chef Louise) were sensational in Little Lake Theater's The Little Mermaid! "The characters these girls created were mesmerizing and you forgot you were in a theater," says Caitlin!
Studio News - May 2018
Bravo to the cast and crew of Fort Couch Middle School's production of The Wizard of Oz! Including Michael Barsotti as the Scarecrow, John Hertzog as the Scarecrow, Isha Sinha as the Wicked Witch, Ammar Kethavath as the Tin Man, Bria Zegarelli as Aunt Em, Sofia Putorti as Galinda, and Zoe Dvorin, Sydney Kirk and Anoushka Sinha as Dancers.
Congratulations to Liam Allen and Daniella Stephens who were both accepted into Lincoln Park Performing Arts Charter School!  Both are entering the 8th grade. For auditions, Liam sang "Proud of Your Boy" from Aladdin, and Daniella sang "I Dreamed A Dream" from Les Miserables.
Gene Kelly's nominations have been announced and we couldn't be more excited to announce that Jenna Wood was nominated for best actress, and Matty Thornton was nominated for best supporting actor from Chartiers Valley's production of Legally Blonde!  A number of our students were involved in productions that have been nominated in the Gene Kelly Awards this year, as well!
Keri Radonovich will be a part of an outstanding choral education program since 1983! Pittsburgh Youth Chorus (formerly Children's Festival Chorus) is the region's premier choral organization for young voices.  More than 200 diverse young singers throughout the Pittsburgh region come together each week to share their love of music and singing, and through their expert care and guidance, they help them find their voice!  That being said, being a part of the Pittsburgh Youth Chorus is nothing short of an honor, and Keri is now a part of this esteemed choir for their 2018-2019 season!
Gian Carlo Menotti's one-act English opera, The Telephone will be performed in Hibbitt Hall at Higher Voice Studio directed by and staring Abby Mae Rogers, soprano, with Jacob Boergesson, tenor, and accompanied by Tim Heavner, piano.
Studio News - April 2018
A huge Higher Voice Studio high five, fist bump and standing ovation for our new Studio Administrator, Casey Squires!!!!   Woo hoo!!!!!  Casey is a 2016 Slippery Rock University (SRU) graduate, having earned a degree in Arts Administration and Anthropology with a minor in Communications.  At SRU, she acted as Production Manager for three years for the annual Brave New Plays festival and was the Publicity Manager for a number of shows and events, including the annual Kaleidoscope Arts Festival and a show SRU Theatre showcased at the Edinburgh Fringe Festival in Scotland.  In her last semester of school, she interned with the Pittsburgh Symphony Orchestra in Media Relations.  Since graduating, she has been doing freelance work in design and photography for events all over the world.
We have put our hearts and souls into song in our beautiful Carnegie building for ONE YEAR this month!  What better way to celebrate than with a party!  We are so thankful to have each and every one of you as part of our family, so please come and give yourselves, your parents, your peers and your teachers a well-deserved round of applause!
Join us on Sunday, April 29th, 2018 from 2:00pm-5:00pm as we congratulate everyone on their hard work this past year.  Just like our Studio Debut in 2017, we're celebrating with an open mic night, so bring your sheet music as Kevin will be at the piano, and again our doors will swing open to welcome everyone you'd like to invite to share this momentous occasion with. Happy Birthday to us, and many more to come!
Our very own Sydney Krauth performed at The Summit in Mt. Washington with Kevin Milliken on Sunday evening.  She performed "She Used to be Mine" from Waitress, the Musical and  "Ain't No Sunshine" by Bill Withers.  "I met so many great new people and I loved having an audience that was so engaged without being in a theater environment," Sydney told us. "And working with a band that does a lot of improv challenged me to wing it and come up with stuff on the spot! It was definitely different than rehearsing a show for weeks, but just as rewarding;" she went on. "I can not wait to do it again!"
Boyce Middle School's 5th graders transformed their school into the magically sugar coated world of Willy Wonka Jr.  Our stars Keri Radonovich (Candy Man) and Luciana Olshanski (Mrs. Teavee) were sweet beyond measure and their teacher, Caitlin, couldn't have been prouder. Congratulations on your fine performances ladies!  We look forward to many more!
Our seniors, Marcy Smith and Anneliese Wolfanger performed in their final high school productions this past week as only they could…. the stars that they are.   Both ladies have spent high school traveling the two hour commute for voice lessons at Higher Voice Studio to prepare them for college majors and careers in singing. Marcy performed the role of Roxie Hart in Elk County Catholic High School's Chicago and Anneliese was Cinderella in St. Mary's High School's Into The Woods.  Marcy will join only 15 accepted incoming freshman majoring in Musical Theater at Temple University in Philadelphia this fall and Anneliese is currently deciding between multiple offers from the top classical voice colleges in the nation.
We are now offering a Sight Singing & Ear Training class with Caitlin!  Learn about rhythms, keys, intervals and chords and you will begin to read music like you read English!  It can be that simple… and fun!  And here's the good news.  The sooner you start, the easier it is.
Chartiers Valley Middle School brought the African savannah roaring to the stage.  Congratulations to Allie Cottom who was brilliant in the chorus, Zoe Carlo who played Young Nala, Mackenzie Giehll who played Banzai, and Kaylee Skumburdes who was keeping everyone on point backstage!  Yet another great show from one of our favorite schools, Chartiers Valley!
Studio News - March 2018
Hilerie's good friend and colleague, Dr. Christopher Scott will be hosting a masterclass in Higher Voice Studio's Hibbitt Hall on Friday, April 6th from 7-10pm.   Dr. Scott serves as Assistant Professor of Music at Slippery Rock University, where he teaches a voice studio as well as other music classes.  He completed his Doctor of Musical Arts degree and his Master's before that at the University of Cincinnati's College-Conservatory of Music. Between degree programs, Chris served Augustana College in Rock Island, IL as Artist in Residence.
Marcy Smith has been cast as Roxie Hart in Elk County Catholic High School's upcoming production of Chicago!  A senior who has spent her high school years working hard, traveling 2 hours to Pittsburgh for voice lessons, practicing and keeping a positive attitude no matter what, this was a big win for her.  Marcy has been incredibly busy this year doing 15 auditions for top musical theater college programs around the country, and this is the perfect way for her to cross the high school finish line.  Performances are April 12-14th at 7:00pm and April 15th at 2:00pm.
Mary Johannan of Pittsburgh Mom's blog and her husband recently had "an amazing opportunity to take the Music Together® classes with Holly Van Hoey at Higher Voice Studio®"
"Music is around us all the time.  Driving in our cars we listen to music, watching TV music is played in the background, and even shopping in the grocery store music is playing.  When we listen to music it brings out an emotion in us.  Happy when we are bopping and singing to the music in the car or sad when we are watching our two favorite TV characters go through a tough time.  As adults we become accustom to how our emotions are attached to the various rhythms and melodies of the music we listen to.  What we don't remember is that we probably learned all of this when we were a baby."
We only brought three students to Eastern Region NATS (the annual National Association of Teachers of Singing competition covering all of New York, Pennsylvania and New Jersey) this year hosted by West Chester University.  35 students qualified into one of the nearly 40 categories, but with musical season being as busy as it was this year, so many singers were very busy being awesome somewhere else and unfortunately weren't able to come.
Singing in NATS is such a beneficial experience.  The judges are voice teachers from private studios and universities who not only score the singers, but provide written feedback about technique, presentation, diction, etc.  It gets students out of their comfort zone and challenges them to really stand and deliver.  They meet tons of other students and are able to participate in free classes and workshops as well.  Plus, many of the teachers are faculty at top musical theater and classical voice college programs and these auditions serve as a personal introduction for students who are considering a career in voice.  
At the regional level, Round 1 is on Friday, Round 2 is on Saturday, the top three perform at a final concert for all of the voice faculty, singers and families on Sunday and then the winners are ranked by first, second and third.  If the singer makes the top five of their category for the final round they qualify for National NATS, which will be in Las Vegas this summer.
Knowing that judging can sometimes be inconsistent and that the three students that were able to come had never participated in NATS before, I didn't really pay much mind to winning.  I just wanted everyone to sing really well and enjoy themselves.  But not only did ALL 3 sing GREAT at their FIRST EVER NATS, but two of them got to perform for everyone in the finals and won THIRD place in their categories in the Region!!! Way to go Emma Marshall, Jacob Boergesson and Katie Hughes! I couldn't be prouder of all of your hard work, dedication and beautiful singing.  
Next year, Eastern Region NATS will be held at Nazareth College in Rochester, NY on March 15-17th. Clear your schedules now!
"If music be the food of love, play on; Give me excess of it, that, surfeiting, The appetite may sicken, and so die. That strain again! It had a dying fall…"
Hilerie joins Aria412 and Pittsburgh Shakespeare in the Park at Wallace's Whiskey Room (123 N Highland Ave, Pittsburgh, PA 15206) on April 3 to celebrate all things binding Shakespeare and song — from Bernstein's "Tonight" (Act I of West Side Story) to Cole Porter's "Brush Up Your Shakespeare" from almost the end of Kiss Me Kate.  In between, we'll take you through tragedies and comedies contrasting operatic and art house song sequences with short excerpts of the sonnets and plays! Truly such stuff as dreams are made on.
Aria412 is Desirée Soteres and Kelly Lynch, also joined this month by Franklin Mosley, William Andrews, Matt Gillespie and delighted to be collaborating with Pittsburgh Shakespeare in the Park's Yvonne Hudson as the vaunted Mrs Shakespeare!
Don't be like Sir Andrew from Twelfth Night wishing you had but studied the arts! The show starts at 7 p.m. and there's no cover charge or other costs attached!
Studio News - February 2018
Spring Music Together® Registration is OPEN!!!
Do you know a little one who loves to sing?  Higher Voice Studio's Holly van Hoey will be hosting more free music classes  starting this March in Hibbitt Hall for children 5 and younger and the adults who love them!!!  Spread the word!  Also, registration is now open for our Spring Music Together Classes that begin in April.  Click the link below for more information and to sign up for all of our Music Together® offerings.  Come make music with us!
Studio News - January 2018
It's that time of year again!  Recital Time!!!  We've just announced on our Higher Voice Studio Facebook page that the Annual Recital is going to be held at Faith Lutheran Church in Upper St Clair on Sunday, February 11th from 2-5pm.  This is a very exciting afternoon in the studio and one that is anticipated all year long!  We are really looking forward to hearing you all sing!
We have a FREE Masterclass scheduled at Higher Voice Studio on Saturday, February 3rd from 2-5pm. If you aren't ready to sing something, just come and watch!  Priority will be given to students performing in the recital as this is a great chance to get your music out before February 11th.
Allison Epler is Eva and Wyatt Keating is Che in Upper St Clair High School's upcoming performance of the rock opera Evita by Andrew Lloyd Webber. Rounding out the cast are Malorie Glancy and Keira James (Aristocrats), Sam Dvorin (Army), Antara Cleetus, Sara Hess, and May Higginbotham (Ensemble).  Evita's narrator, Che, follows the life of Argentine political leader Eva Perón, her early life, rise to power, charity work and eventual death.  Performances are March 9-10th (7:30pm), March 11th (2pm), and March 15-17th (7:30).
This is your last chance to register for the Music Together Winter Session beginning this Saturday, January 13 from 9-9:45am!  The class runs every Saturday morning till March 10th and is guaranteed to be one of the most fun, enriching and definitely musical days of your week.  Come sing and play with us!
Nick Traficante is Albert Peterson, Ellie Racunas is Rosie Alvarez, Chloe Mesogitis is Mrs. Doris MacAfee and Elise Romero is a featured dancer and ensemble member in Peters  Township High School's upcoming production of Bye, Bye Birdie. Inspired by Elvis Presley and his 1957 draft notice into the army, rock star Conrad Birdie travels to a small Ohio town to make his "farewell" television performance and kiss his biggest fan before he is drafted.  Performances are March 15-17 at 7:30pm and Sunday, March 18th at 2m.  Ticket sales begin February 1st.
Carly DeGruttola is the Flower Girl, Paige Krupp is the Maid and Abby Solomon is Selsey Woman in Thomas Jefferson High School's spring musical, Lerner and Loewe's My Fair Lady.  Based on the stage play Pygmalion, Eliza Doolittle, a Cockney flower girl, takes speech lessons from professor Henry Higgins, a phoneticist, so that she may pass as a lady. The musical's 1956 Broadway production set a record for the longest run of any show on Broadway up to that time and the film starred Audrey Hepburn and Rex Harrison, featuring songs like "I Could Have Danced All Night" and "On The Street Where You Live." Performances are Thursday March 15th at 7:30pm, Friday March 16th at 7:30pm, and Saturday March 17th at 1:00pm and 7:30pm.
Ashley Teti was one of four students who headed into Studio 84 this week to begin Phase 3 of the Higher Voice Studio Singer-Songwriter Sessions with national recording artist FRZY.  Recording her original song, "Coloring Book," written this past August, Ashley got to work with industry professionals who encouraged and guided her through the process.
"Completely overwhelmed with excitement, pride and lots of love!!," said Heather Teti, Ashley's mom.  "THANK YOU to Hilerie Klein Rensi and Higher Voice Studio for this unbelievable opportunity!! Thank you to FRZY (Harvey Daniels) for having Ashley Teti back and making her dreams come true!! You are one of the most sincere & talented guys we have ever met! Stayed tuned everyone!! ❤️❤️❤️"
Phase 2, the photo sessions for the Higher Voice Studio Singer-Songwriter students, was completed this fall and are in the final touch up process.  Wiley Lindsey, Sydney Krauth and Dayna Desantis have all recorded their songs now at Studio 84 as Phase 3 continues, and the final group of students will have this same opportunity in the upcoming weeks.
Not only is Seton LaSalle High School doing Into the Woods with Kara Rantovich as Little Red Riding Hood, but St. Mary's Area High School is also doing Into the Woods this spring and Anneliese Wolfanger has been cast in role of Cinderella!  Both ladies are very busy this year as Kara is auditioning for college musical theater programs and Anneliese is auditioning for college classical voice programs.  Performances for Seton LaSalle's production are March 1, 2 and 3 at 7:30pm and St. Mary's Area High School performances are April 12-14 at 7:00pm.
We would like to welcome Nick Kochanov, a Pittsburgh based voice teacher, actor, and singer, who has been performing regionally in musicals, operas, and theme parks for the past nine years, to Higher Voice Studio as a new Vocal Coach. Nick holds a degree in Vocal Performance from Slippery Rock University, where he was a member of the chamber singers, served as the Vice-President of the University Choir, and was a member of the honorary music fraternity, Mu Phi Epsilon.
Megan Jones was able to meet her idol, Audra McDonald, after adding a brilliant High C at the end of "I Could Have Danced All Night," after Audra asked the audience to sing along.  Megan and her mother, Holly, were then asked to to meet some board members from the Rochester Philharmonic Orchestra (and Audra).
Megan was also the first vocalist in years to win the Ithaca College Conservatory-wide concerto competition.  She will be performing "The Bell Aria" from the opera, Lakme with full orchestra on March 3rd with the other 2 finalists.
Studio News - December 2017
Traveling from Ithaca College, Dr. Walz will be hosting a masterclass this Sunday, December, 10th from 2-5 PM, covering everything from performing to vocal technique right here in Hibbitt Hall at Higher Voice Studio.  Due to the advanced level of information, this masterclass is for singers ages 14 and up.
Congratulations to Alexis Graves who has been cast as the lead Georgia, in Canon-McMillan High School's upcoming production of Curtains, a parody of 1950s "whodunnit" theater mysteries, where a lone detective, Lieutenant Frank Cioffi, investigates a series of murders that take place place behind the scenes of a fictional 1950s cowboy musical, Robbin' Hood. Performances are March 8-10 at 7 PM.
Chloë Mesogitis from Peters Township High School earned a superior rating again at the 2017 State Thespian Conference. Out of 1000 participants, Chloë also received 1 out of the 9 performances scholarships for her performance of "Whatever Happened To My Part" from Monty Python's Spamalot and was inducted into the Thespian Performance Hall Of Fame.  Five schools offered her college scholarships and were quoted saying not only was she incredible and her vocal technique was amazing, but she was "one of their favorites for the whole day."
Noah Stiglich is Captain Von Trapp at St. Thomas Moore Catholic School in Bethel Park with performances on April 26th at 1:30 PM and April 27th at 7 PM and Katie Hughes is Liesl at Sewickley Academy High School with performances on March 1-3 at 7 PM.
The Hobbs Sisters have released their newest single, "Background Noise."  "We wrote the song with our friend Greg Bates and it was recorded and produced in Nashville by Greg Bates and Ben Jackson. We CANNOT wait for you to hear it "  Download it now and visit their Facebook page for more!
Studio News - November 2017
Jenna Wood (Elle Woods), Ashley Teti (Margot), Matty Thornton (Callahan), Kaylee Skumburdes (Paulette), Hunter Briggs (Aaron & Featured Soloist), Katherine Palma (Chutney & Featured Soloist), Taylor Bopp (Featured Soloist), Abbey Evanko (Featured Soloist), Alley Gamble (Featured Soloist), Lena Werner (Featured Soloist), Gabby Abriatis (Ensemble), Cora Brown (Ensemble), Sheridan Molnar (Ensemble), Madison Mulligan (Ensemble), Hannah Salerno (Ensemble) and Riley Thornton (Ensemble) are performing in Chartiers Valley's upcoming performance of Legally Blonde The Musical!  Performances are March 7th, 8th, 9th and 10th at 7:30 PM and tickets are available here.  
Emily Maloney (senior) will be performing Dolly, Sam Schuler (junior) will be singing Cornelius Hackl, and Audrey Logan (freshman) and Ariel Cameroe (freshman) are double cast as Irene Molloy in South Fayette High School's spring production of Hello, Dolly!   Performances are Friday, March 23rd at 7:00 PM, Saturday, March 24th at 7:00 PM, and Sunday, March 25th at 2:30 PM.
Clara McGough can be seen as Charlotte in Little Lake Theater's upcoming production of Yes, Virginia there is a Santa Claus, The Musical on Nov 24th & 25, December 2nd & 3rd, 9th & 10th, and 16th & 17th.  Tickets are available here.
Kevin Milliken will be playing piano for "Christmas Through The Years" at the Edwin S Porter Theatre in Connellsville, PA on Friday, December 1st at 7:30 PM, Saturday, December 2nd at 7:30 PM and Sunday, December 3rd at 2:30 PM.  Tickets are $10 and are available by reservation and at the door.
Hilerie will join members of the Pittsburgh Youth Philharmonic Strings as they play along with Jazz legend Richie Cole for "A Very Carnegie Christmas" at the Carnegie Music Hall, up on the hill behind Higher Voice Studio on Saturday, December 2nd at 7:30 PM. Buy your tickets here.
Higher Voice Studio's Annual Cookies and Caroling is on December 2nd starting with the Carnegie Tree Lighting at 5:00 PM in the parking lot next to PNC Bank.  From there, we'll move our celebrations to Higher Voice Studio for cookies, hot chocolate and cider and then we will head out to spread our Holiday cheer with the music we all know and love.  Bring your favorite cookies and your warmest coats.  Invite your friends, parents, grandparents and second cousins twice removed!  All are welcomed and ALL MUST SING!!!!
Kevin Milliken will be performing at the Sixth Annual Holiday Show, " 'Tis the Season for Red, Green, and Blues" on Sunday, December 3rd starting at 6:00 PM at the Cabaret at Theater Square featuring Jason Kendall and his band and a variety of Pittsburgh's finest musicians and performers. A portion of the proceeds from this show benefits the Greater Pittsburgh Community Food Bank and tickets are available through the Pittsburgh Cultural Trust. 
The Hobbs Sisters will be playing accoustic guitar and singing at "Thanksgiving Eve With The Stickers." on November 22nd from 8-11 PM at Tequila Cowboy, on the North Shore in  Pittsburgh.  For all of the Hobbs Sister's tour dates, see their website and Facebook page.
Studio News - October 2017
Higher Voice Studio was featured this week in Pittsburgh's Finest 2017 Profile Series published in the October 11, 2017 issue of the Pittsburgh City Paper, in recognition of high standards of excellence and outstanding achievement!  Here at Higher Voice Studio, we say thank you.  Thank you to our students and families for welcoming us into more than just your musical lives and for blessing us with the sounds of your voices.  
Congratulations Alex Ficco and Matty Thornton who will be playing Beauty and the Beast in Pittsburgh Music Theater (PMT)'s upcoming production of Beauty and the Beast at The Byham Theater.  Rounding out the cast is Sydney Krauth (Silly Girl), Alexis Graves (Mother of Twins) and Charlotte Kinslow (Village Child).  Performances are double cast- Alex, Matty, Alexis and Charlotte can be seen together on Friday October 27th (7:30 p.m.) and Sunday, October 29th (2 p.m.).   Matty, Sydney and Alexis can be seen together on Thursday, October 26th (7:30 p.m.) and Saturday, October 28th (7:30 p.m.).  Tickets are available here and there aren't many left! 
What an exciting weekend at the Tri-State Chapter NATS (National Association of Teachers of Singing) Competition at Indiana University of Pennsylvania. Sydney Krauth place 1st in High School Women's Musical Theater, Emily Maloney placed 2nd in High School Women's Musical Theater and Anneliese Wolfanger placed 3rd in High School Women's Musical Theater.  Also, Sam Schuler placed 1st in High School Men's Musical Theater and Anneliese Wolfanger placed 1st for the second year in a row in High School Women's Classical.  Extraordinary performances were also given by JJ Jardini, Audrey Logan, Ashley Teti and Abbey Evanko!  
CV High School's upcoming fall drama 12 Angry Jurors has been cast!  Abbey Evanko (Juror 1), Jenna Wood (Juror 3), Maddy Mulligan (Juror 7), Kaylee Skumburdes (Juror 10), Lena Werner (Juror 10), Ashley Teti (Juror 12) and Sheridan Molnar (Guard) complete the production with upcoming performances on November 7th-10th at Chartiers Valley High School.  Tickets go on sale on October 10th.
November 11th at 7 p.m., Higher Voice Studio students will be performing at South Fayette High School's upcoming Fall Showcase.  Sam Schuler will be singing "Her Voice" from The Little Mermaid (Musical), Ariel Cameroe (Radinovic) will be singing and playing on her ukulele "Light the Sky" by Grace VanderWaal and performing with two of her friends in "Some Nights" by Fun, and Audrey Logan will be singing "Taylor, The Latte Boy" by Marcy Heisler and Zina Goldrich.   Emily Maloney will also be singing her original song "Forever Starts Now" written for her sister, Michelle's wedding this past fall.  There's a rumor that Emily will be recording her most recent two originals in Nashville soon.  Stay tuned…….
B. Mattie's newest partnership with Jack Carasuolo, titled WAVS, has released their first single this week, "Pictures."  'Pictures' is their first single that they shot a music video for and they are releasing another single this month as well!
Kevin Milliken is music directing Heritage Player's upcoming production of Into The Woods.  Performances are November 3-5 and 10-12 and you can reserve tickets by emailing heritageplayers@yahoo.com.  
Laurie Kudis's band Charm & Chain have released their most recent single on Spotify titled "Best View" from their upcoming album Plenty of Places to Go.  You can see their show Werewolf Therewolf on October 27th at the Black Forge Coffee House from 6-9 p.m. and Laurie will performing singer/songwriter style at the EQT 10 Miler, "Pittsburgh's Favorite Fall Road Race," on the morning of November 5th near Station Square.  Be sure to check them out, add "Best View" to your Spotify playlist and support a fellow Higher Voice Studio artist!
Studio News - September 2017
Congratulations to Hunter Briggs who won The Voice of Collier competition this past Saturday night.  Based on votes from his family, friends and all of you, Hunter's Facebook video performing Sam Cohn's "Hallelujah" placed him in the top three contestants and he was chosen to perform at Collier Fest for the final round.  Before going on stage, all the contestants were interviewed by the Froggy Radio station's The Danger Show and they got to share a room with Stephanie Quayle and her band.  Hunter entered the stage at 7 p.m., performing vocals and his own accompaniment to  "Hallelujah" and closing with "Lay Me Down" by Sam Smith.  The judges (Stephanie Quayle, her band, and Timothy Earl, of the Timothy Earl Band) voted Hunter the winner!  He received $50 worth of gift cards and he was featured last evening on Froggy Radio Station's The Danger Show. 
Charlotte Kinslow and Alexis Viola landed the roles of orphans in Stage 62's upcoming performance of Annie.  Performances are Thursday, November 9th – 11th, Thursday, November 16th – 18th at 8 pm with Sunday Matinees on November 12th and 19th at 2 p.m at the Andrew Carnegie Free Library & Music Hall, right up the hill, behind Higher Voice Studio. Tickets are available now.  
Carly DeCock's CD 18 is now available for free listening on Sound Cloud. Singing covers of Laura Nyro, Madonna, Bastille, Young the Giant, "Burn" from Hamilton and "Somewhere Over The Rainbow," the album also includes one of Scott Anderson's original songs from his musical workshopped at Point Park College.  The album features Scott Anderson on piano, Chris D'Amico on drums (Stoney End, Pompeii, Cough Syrup), Aaron Fultineer  on guitar (Pompeii & Cough Syrup), Christian Ryan on bass (Pompeii & Cough Syrup).
Congratulations to Paige Krupp (Annie) and Carly DeGruttola (Young Mary) who were both cast in Thomas Jefferson High School's fall theater production of It's A Wonderful Life, and to Wyatt Keating who will be performing the role of John Worthing, J.P in Upper St Clair High School's upcoming production of The Importance of Being Earnest.  The Importance Of Being Earnest is running on October 26th, 28th and 29th and TJ High School will announce their performances of It's A Wonderful Life soon.  
The Evan Dean Band performed at the Crafthouse this past Saturday and are looking forward to headlining the Seven Springs Fall Fest on October 22nd from 1-4pm. Featuring Evan on vocals and guitar, Ed Kowalski on lead guitar and vocals, Steve Dunn on bass, Chris Belin, drums, they've recently added Joe Cipollone, on keyboard.  Evan's original song "Roll Away The Stone" is the first single in his upcoming solo EP, highlighting Evan's singer/ songwriter influences. The upcoming EP continues in this vein adding rootsy slide blues, soul, R&B, and gritty rock tunes.  To get a taste of the live experience, check out the videos on their Facebook page.
Abbey Evanko, a sophomore at Chartiers Valley High School,  will perform the role of Cinderella at the Grand Theatre in Elizabeth, PA with Mon River Arts, for their upcoming performance of Stephen Sondheim's Into The Woods Jr. Performances are Friday, October 20th at 7:30, Saturday, October 21st at 2:00 & 6:00, and Sunday October 22nd at 2:00.
– 6 Higher Voice Studio students got a Front of Line pass to audition at American Idol this past weekend.  Producers approached Hilerie to recommend students for the show, which will be starring world renowned performer and new judge, Katy Perry on ABC next year.  Ashley Teti, Hunter Briggs, Abbey Evanko, Dayna Desantis, Sydney Krauth and Taylor Bopp all received feedback that was both positive and constructive and were encouraged to re-audition next year.  
Shane Treloar will be a featured performer for the third year in a row in the Voice Carry Concert at Stage AE on October 3rd, from 6-10:30 pm!  With over 600 attendees, this unique rock concert, live auction and raffle is the 13 annual fundraiser, which directly benefits the lives of at-risk children and families of Auberle.  Shane will be joined on stage by Chris Higbee, Donnie Iris, Scott Blasey of the Clarks, Kelsey Friday, Frank Czuri and more.  For tickets and more information, see their website.  
Hannah Lane will be performing the role of Margaret White in Stephen King's, Carrie, the Musical at Ohio Northern University on October 19th-22nd.
Studio News - August 2017
We have a new teacher!  Kevin Milliken will begin teaching piano for singers starting, Monday, September 6th. He will also be available for accompanying, music coaching, theory and musicianship lessons.
The Hobbs Sisters opened for The Charlie Daniels Band this past Friday at the Champaign County Fair.  Just back from their writing sabbatical in Nashville where they played at The Bluebird Cafe, were crowned the winner of the Nashville Rising Star competition, and "wrote more songs than they know what to do with," their newest original album Love Hangover is climbing on iTunes.  Keep up with all the excitement on Facebook, Instagram and Twitter.
Tessa Victoria's newest original "89 Airstream" is out on YouTube.  Now a graduate of Berklee College of Music in Boston, a finalist of the Nashville Rising Star competition and a frequent performer at The Bluebird Cafe in Nashville, follow her on Facebook and Instagram for all of her upcoming shows.
Hilerie returned late Monday afternoon from Bloomington, Indiana where she performed this past weekend in a concert of musical theater and opera selections to benefit the students of Fairview Elementary School.  Joining Hilerie on stage was soprano, Anna Singer (New York City Opera, WQED radio host), tenor, Rob Chafin (Paris Opera, voice faculty at WVU) baritone, Richard Lewis (Carnegie Hall, Washington National Opera) and pianist, Michael Borowitz (Metropolitan Opera, Cleveland Opera).  
Charm & Chain will be playing at the Carnegie Crawl on Friday night, September 8th outside on the corner of Broadway and East Main Street, outside of Higher Voice Studio.  Come and enjoy a Carnegie tradition!
The Hobbs Sisters are performing at Pennsboro County Roads Festival on September 9th at 8:30 pm.  For all of their tour dates, see their website
Emma Marshall, Alexis Walker,  Shane Treloar and Josh Lyda will be performing in Lincoln Park's upcoming production of Mary Poppins The Musical on October 6-8th, 13-15th and 20-22nd.
Ashley Mullens will be performing the role of Lucille in Little Lake Theater's upcoming production of Junie B. Jones The Musical.  Performances are October 6-8th, 13-15th, 20-22nd and 27-29th.
Higher Voice Studio is offering songwriting sessions with national recording artist Frzy this upcoming Monday, Tuesday and Wednesday only from 9am to 8pm. These two hour sessions are only $100 and will be held on the third floor of Higher Voice Studio, by invitation only.  Frzy will cover publishing, song writing, structure, content, topics and lyrics, melodies and hooks.  You will leave the session with a song either started or completed and with detailed and individualized instructions on how to continue in the direction you want to go.
The Hobbs Sisters opened for  The Charlie Daniels Band this past Friday at the Champaign County Fair.  Just back from their writing sabbatical in Nashville where they played at The Bluebird Cafe, were crowned the winner of the Nashville Rising Star competition, and "wrote more songs than they know what to do with," their newest original album Love Hangover is climbing on iTunes.  Keep up with all the excitement on Facebook, Instagram and Twitter. Photo credit: Jeff Reams
Tessa Victoria's newest original "89 Airstream" is out on YouTube.  When Tessa studied with Hilerie in high school, her favorite composer to sing was Mozart.  "Let me work on Italian.  It always helps me sing better."  Now a graduate of Berklee College of Music in Boston, a finalist of the Nashville Rising Star competition and a frequent performer at The Bluebird Cafe in Nashville, follow her on Facebook and Instagram for all of her upcoming shows .  
This Saturday, August 5th, Ashley Teti will be singing the national anthem at the Pittsburgh Pennsylvania Motor Speedway.  The race starts at 7!
Kara Rantovich enters her final weekend of performances at the Southeastern  Summer  Theater Institute in Hilton Head, SC performing the role of Elizabeth in Young Frankenstein.  Tickets are available here.
You can catch Josh Lyda and Ariel Camero this weekend in Little Lake Theater's production of School House Rock!  Jr. Live. Click here for tickets.
Studio News - July 2017
Marcy Smith heads to Interlochen Center for the Arts for her first summer as a musical theater major.
Kara Rantovich is spending her summer at the Southeastern Summer Theater Institute in Hilton Head, South Carolina. Virtue in "Anything Goes" is done and now she prepares for Elizabeth in "Young Frankenstein."
Pittsburgh's rapper FRZY has been very busy taking lessons in the studio as part of his recovery from throat surgery.   Stay tuned to his website because…. big news is coming!
Right off of her Children's Theater Festival Performance at EQT Plaza in Pittsburgh's Cultural District, Ariel Cameroe headed to PNC Park, Monday July 17th to sing our national anthem for the Pittsburgh Pirates!  Watch the movie about her journey to the plate and back…
Continuing their THSPLAYITLOUD summer campaign, The Hobbs Sisters performed at the legendary Bluebird Cafe in Nashville, TN.   They were also seen and heard at Seven Springs Ribfest, Shippensburg Fair and Rivers Casino Outdoor Concert with the one and only Chris Higbee.  Tickets are on sale now for The Champaign County Fair with the Charlie Daniels Band on August 4th.  Do not miss it y'all!
Charm & Chain performed at the Deutschtown Music Festival and on August 12th will be at the James Street Gatropub and Speakeasy.
Studio News - June 2017
​The Hobbs Sisters spent most of June in Nashville performing and writing more songs than they know what to do with.  Tennessee highlights include Jack Daniel's Saloon at Opryland and Commodore Grille… and they aren't done yet!  A little blue bird told me something big about July…..
Watch Abbey Evanko perform the national anthem at the Collier Municipal Memorial Day celebration.
Josh Lyda and Ariel Cameroe are busy in rehearsals for Little Lake Theater's upcoming production of School House Rock.  See their website for ticket information.
Alana Solomon is back from her first year at Belmont University in Nashville majoring in commercial voice with an emphasis in music business.
Studio News - February 2017
Studio News - January 2017