The Music Together® Curriculum
The Music Together® curriculum includes a mix of original songs and traditional tunes from the folk, jazz, and world music traditions in a variety of tonalities and meters.  By presenting a range of musical styles from lyrical to blues, from folk to boogie, Music Together® provides children with a rich music experience that stimulates and supports their growing music skills and understanding.
Music Together's nine song collections—each identified by its own color, instrument name, and graphic—are presented in a three-year cycle of three semesters per year.  They are non-sequential, so families may join at any semester and attend class for three full years before cycling back to re-experience the collections from their growing children's ever-changing perspectives.  Because music learning is cumulative, with children reaping developmental benefits that build over time, we encourage their participation for as many years as possible from infancy through kindergarten.
Music Together's song collections have outstanding arrangements that are fun, sophisticated, and loved by children and grownups alike.  The music is pitched in just the right range for children's voices and includes songs, rhythmic rhymes, tonal and rhythm patterns, and instrumental play-alongs.  All of the songs are suitable for mixed-age groups, perfect for childcare centers or families with children of different ages.
Each semester, families receive an information rich Family Resource Guide containing the song collection CD, digital download, and more.  Families also receive an illustrated songbook full of music-making ideas and access to the Family Music Zone, where there is a wealth of resources, activities, and information to help you make the most of your experience with us.  In addition, families new to the program receive a parent guide booklet, "Music Together® at Home: Helping Your Child Grow Musically."
Higher Voice Studio
Music Together® Class Policies
Music Together® FAQ with Holly
Find out more about the Music Together® program at Higher Voice Studio, and hear it straight from the program instructor herself.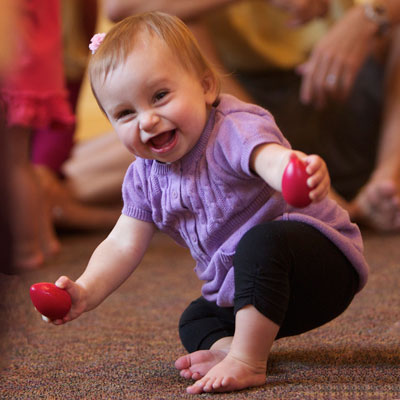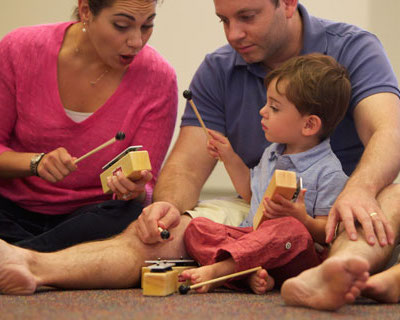 Music Together® Classes
Fully trained and registered Music Together® teacher, Holly Van Hoey, leads a group of six to twelve children and their parents or caregivers (nannies, babysitters, grandparents, or relatives) in forty-five minutes of music and movement experiences at our beautiful studio in downtown Carnegie.
Music Together's research based, developmentally appropriate music program develops basic music skills, such as singing in tune and moving with accurate rhythm. It also nurtures creativity, self-expression, and confidence and supports social, emotional, cognitive, and physical development.
Each weekly class offers a dozen songs and rhythmic rhymes.  We sing, dance, play with drums, bells, shakers, tambourines, scarves, balls, triangles, resonance balls, castanets, ukuleles and more!
Children and their adults have opportunities to create and improvise making up new words to songs, offering movement ideas, making silly sounds, and sharing musical ideas from the family's play at home.
The relaxed, playful, non-performance-oriented classroom setting respects and supports the unique learning styles, developmental levels, and temperaments of all participants, creating a strong sense of community.
Each semester, families receive an information rich Family Resource Guide containing the song collection CD and a digital download code to access the Family Music Zone at www.musictogether.com, along with an illustrated songbook that's filled with music-making ideas for spontaneous music play beyond the weekly classes.
Winter Music Together® Class Registration
FREE classes!
Baby Lullaby Event – Friday, December 14th, 12:00 p.m. *
Tuesday, January 8th, 11:00 a.m.
Friday, January 11th, 11:00 a.m.
Saturday, January 12th, 10:00 a.m.
* For parents with babies or who are expecting ONLY.  This is a 75-minute informational class, including a full Music Together® babies' class and an open discussion afterwards.
Winter classes
Winter Tuesdays: January 15th – March 12th @ 11am

Winter Fridays: January 18th – March 15th @ 11am

Winter Saturdays: January 19th – March 16th @ 10am

$160 for 9 weeks
Tuition is charged once per family (siblings of a registered student are free)
Each semester, every family receives a Music Together Songbook and CD
We welcome children ages birth through age 5 to register for classes
Siblings of a registered student are free
(Tuition is only charged once per family)
Please contact holly@highervoicestudio.com for all sibling registrations
Registration is reserved with a credit card
If a check or cash is received by the first class, the credit card will not be charged.
Please read our Music Together® Policies before registering
 
Exciting news! We are now offering a referral tuition credit for families as a "thank you" for your support!
$10 tuition credit per referred registered family
In order to receive the credit, please ask your friends and family to enter your full name under the "how did you hear about us" section when they register for the semester!
FREE Music Together® classes:
Free! Baby Lullaby Event - Friday, December 14th
Free! Tuesday, January 8th
Free! Friday, January 11th
Free! Saturday, January 12th
Register now for Winter Music Together® classes: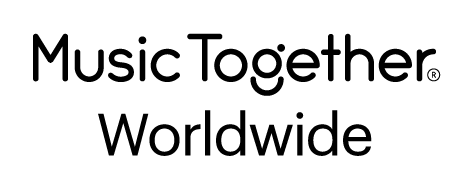 ©1992–2018 Music Together LLC. Music Together is a registered trademark. Higher Voice Studio LLC is licensed by Music Together LLC.  For more locations: www.musictogether.com – (800) 728-2692